Medical Microneedling
As we age and battle skin conditions, the natural architecture of our skin deteriorates, which leads to fine lines, wrinkles, large pores and uneven skin texture. Collagen induction therapy, also known as microneedling, is a great way to address these signs of aging at the cellular level. Microneedling comfortably creates thousands of micro-injuries in the skin to trigger the body's natural wound healing process. This results in skin remodeling, including the formation of collagen and elastin, the two proteins predominantly responsible for the structure of the skin. The outcome is beautiful, youthful looking skin.
There is a difference and it's BLUE
Bellus Medical raises the bar with SkinPen, the only U.S. engineered and manufactured microneedling device on the market with patent-pending, single use, sterile needle cartridges. Practices and patients now have peace of mind with a safe, superior device they can trust. Ask Dr. Yeh today about the many benefits of microneedling with SkinPen.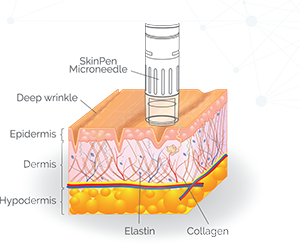 What You Can Expect
A comfortable experience.
A short procedure time, approximately 30 minutes.
A plan for optimal results.
Mild post-procedure effects, similar to a mild to moderate sunburn.
Effective on all body parts, including face, neck and decolletage.
Safe for all skin types, light to dark.
Ideal any time of the year.
Little to no downtime.
Beautiful, lasting results.
Microneedling with PRP (Platelet-Rich Plasma)
What Does Platelet-Rich Plasma Produce and What Are The Benefits To Me?
HEALEON PRP is a high concentration of blood platelets surrounded by its own plasma. PRP is produced when a small amount of blood is drawn and the red cells are isolated from the platelet-rich plasma within the blood.
Since this is your own blood from which the PRP is derived, there is virtually no risk of allergic reactions or rejection. With a simple, quick process, Dr. Yeh is able to derive a high concentration of biological nutrient-rich cells and create autologous platelet-rich plasma.
The internal essence of your blood contains life-giving fundamental protein growth factors. HEALEON PRP utilizes a leading edge, patented technology that is specifically designed to concentrate your platelets to that optimum for each specific target issue.
Dr. Yeh can explain how the growth factors produced by PRP can benefit your specific needs:
Epidermal Growth Factor (EGF)
Collagen Stimulating Growth Factor
Transforming Growth Factor (TGF)
Platelet Derived Growth Factor (PDGF)
Vascular Endothelial Growth Factor (VEGF)
Fibroblast Growth Factor
Interleukins, Macrophages, Keratinocytes, Endothelial Cells, Lymphocytes, Fibroblasts, Osteoblasts, Basophils, Mast Cells
Benefits of PRP treatments may include:
Tissue Repair
Cell Growth
Collegen Production
Dr. Yeh can explain in detail how PRP therapy may be right for you to achieve your goals.
How does the procedure work?
A simple blood draw, similar to having a basic lab test, is all that is needed to prepare the PRP.
Your blood is placed into a centrifuge and spun at a very rapid rate to separate the platelets from other components of the blood, which activates the platelet-rich plasma (PRP). And, because it is your OWN blood, there is virtually no risk of intolerance or allergy. As with any procedure, it is recommended you disclose any medications you might be taking, including herbs, to Dr. Yeh.
The PRP is then reinjected into the sites determined by Dr. Yeh to facilitate your treatment.